John Mayer would eventually be my husband.
At least that's what my middle school brain hopelessly assumed.
In fact, I think I spent half of my life blasting his tunes in the car on the way to volleyball practices and theatrical performances. The back corner of my memory contains countless lyrics from Continuum.
There is one song in particular that I find consistently resonating entitled "Stop This Train." Mayer talks about wishing the train of life would stop chugging ahead at such a high speed, holding him back from the painful experience of growing pains and major changes. The wisdom of his father suggests that life will unfold little by little and we must experience each moment in its splendor. However, even when the moments are encountered consciously in the present, there is still a natural, stinging pain with drastic alterations to the routine to which you've grown fondly accustomed.
Mayer writes:
"Once in a while, when it's good
It'll feel like it should
When you're all still around
And you're still safe and sound
And you don't miss a thing
'Till you cry when you're driving away in the dark
Singing, stop this train
I want to get off and go home again
I can't take the speed it's moving in
I know, I can't
'Cause now I see I'll never stop this train."
I feel like this is my current mental outlook on life, or at least the one I attempt to achieve. I am enthralled by the prospective challenges and adventures, and the deep onslaught of grief does not swell until I literally pull out of the driveway for the last time. I find myself assuring everyone, including my own mind, that I am fine and completely unaffected by the current fluctuating situations, only to be struck by the lightening bolt of pain. The morphine dosage of positivity will soon fail to be enough to numb the unwanted feelings.
I am an emotional creature, and the pain that comes with the loss of comfortability is inevitable.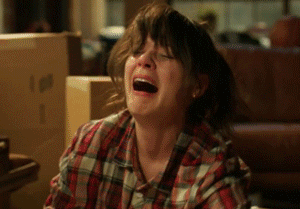 Okay, crying session is over. Right?
I would consider myself a realist. If the fallen world is inevitably going to let you down, why hope in something that is bound to decompose and break your heart? Putting faith in God is necessary, but difficult, because of the fallibility of the world. I just don't enjoy falling from a higher mountain of expectation into a worse state of emotional wreckage if I can help it. You probably feel similarly – no one enjoys the idea of pain.
I am about to move 9 hours away to a city with no connections and the excitement is uncontainable. However, within the past two weeks, I have met some of the most incredible people and fostered some wonderful relationships that pull on my heartstrings with a twang. Sometimes you don't realize the beauty of the community you are in until you are about to drive away in the darkness. Singing, wishing, crying, begging for life to stop this train. But I haven't reached that point yet – I am only asking to slow this train. I am still at the stage of taking in every moment and enjoying the blossoming friendships while I can.
Here are the ways in which I am preparing for the change to come:
I am not withholding myself from forming deeper relationships with those around me, even if it means that I will be torn away like duct tape instead of Scotch. It would be foolish of me to avoid those around me to ease my own potential pain. So I will fill my last few weeks in Tennessee with as many people as possible and gallons of coffee.
I am diving into my creative outlets to foster an environment for emotional vulnerability. I am attempting to read more books and write stories and songs. The old acrylics are coming out of hiding and splattering themselves on canvas. I am spending time at the piano. I am discussing the brain and trauma with my mom. Embracing my emotions does not equate to weakness – vulnerability is healthy, and it is time I intentionally put it into practice.
I am throwing myself a goodbye party. I was always told by others that celebrating myself was selfish and people would scoff at my gifts. I remember in middle school, some of my close friends told me I was worshipping too loudly and deeply and I needed to stop showing off. I would share a good grade with a friend and they would shame me into feeling bad for being intelligent. So I am choosing to purposely marinate in my accomplishments and let others celebrate with me. There is nothing wrong with planning a night for yourself.
I am coming to terms with the fact that I will not be able to consistently visit. I am not promising anyone time in the future that I do not have to give out. By doing so, I am signing myself up for failure and choosing to remain in the past.
What changes are imminent in your life? Do you fear the change or embrace it? Do you dive into new experiences too fast or do you take your time closing out the previous chapter? The ways I am preparing for change are combating my desire for emotionless, exciting jumps from one mountain to another. I love the adventure and the chase, but settling into a rhythm can be difficult – I want the next best thing. You may approach things differently. I encourage you to reevaluate how you handle change and find where your stumbling blocks are.
You cannot stop the train. It will drag you behind if it must as you plead with the conductor to hit the brakes.
You are an emotional creature – growth will stretch you past your limits and you will break. You are not God; you function as a creature does and, therefore, you will experience the tribulations and destruction of this world. It is not wrong to feel vulnerable. Just don't dwell in the pain and don't let your situation define you.